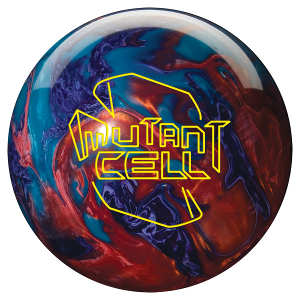 The progression continues with the introduction of the Mutant Cell™ Pearl. This next generation Crown™ line release adds another dimension to the already popular Cell™ line.
The Nucleus II™ core with its higher RG value and increased intermediate differential creates a much more defined breakpoint than the original, but still features the predictability that has made the Cell™ line so popular.
Enhancing that motion even further is the Cytoplasmic™ XL pearl reactive coverstock. The combination of increased surface topography and enhanced friction values delivers stronger mid-lane traction with extreme entry angle to the pocket.
This latest edition will be the most radical Cell™ of all…
MUTANT CELL™ PEARL Ball Facts
Coverstock
Cytoplasmic XL™ Pearl Reactive
Weight Block
Nucleus II™
Ball Color
Aqua/Copper/Purple
Ball Finish
1500-grit Polished
Durometer
73-75 Rex D-scale
Flare Potential
7? + (High)
Weights
12 – 16 lbs.
SKU
BBMRPM
Mutant Cell Pearl Drill Specifications
The [bowlingball value="8471″/] will have a worldwide release date of June 9, 2010.


Roto Grip Mutant Cell Pearl Bowling Ball was last modified: May 21st, 2010 by
Comments
comments