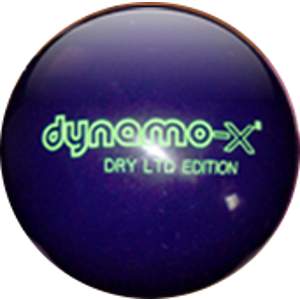 Don't get burned by dry lanes! The DYNAMO X2 Dry Limited Edition is the perfect solution for scorched lanes! LIMITED EDITION OF ONLY 300!
Many bowlers get extremely frustrated when they hit the lanes and the lane surface resembles the Sahara desert. It's not that they can't bowl on dry lanes, it just takes the correct ball to have success! You wouldn't use a driver out of a greenside bunker, would you?
Get the upper hand on the driest of conditions!
Dynamo X2 Dry Limited Edition Specs
Release Date: 05/18/2010
Perfect Scale: 145
Performance: Pro Performance(10)
RG: 2.467
Differential: 0.049
Flare Potential: 5″+
Lane Condition: Dry
Finish: Polished
Coverstock: Reactive Resin
Coverstock Name: Limited Edition Dry Reactive
Color: Purple
Core Type: Symmetric
Core Name: Hurricane Patented Diamond
Quality: First Quality
Check Out the Lane #1 Dynamo X2 Dry Limited Edition Bowling Ball was last modified: August 2nd, 2010 by
Comments
comments